A humidifier is one of the most commonly used home appliances. It keeps humidity levels in balance; creates a healthy environment. This helpful device is made of many parts, and the humidifier filter is the most important among them.
A humidifier filter requires regular cleaning; otherwise, it will become a hub for bacteria and fungus. Besides, a messy filter disperses odd odors.
Although you can replace the filter with a new one, it's washable, and after every wash, it works as new. Cleaning a humidifier filter is not too difficult; all you have to do is just follow some simple steps.
Note: Usually, most people use tap water for humidifiers. Several minerals and even molds are available in tap water that deposit on the filter, leaving a harmful effect. Distilled water is ideal for any humidifier.
The necessary steps and elements
You'll need a bucket, water, hand gloves, and vinegar to clean the filter. You can also use bleach or hydrogen peroxide instead of vinegar.
Read the catalog: At first, read the manual book; it will help you open the tank and filter efficiently.
Unplug the humidifier: Humidifiers operate on electricity so, they are always connected to the switch. For safety purposes, make sure that the humidifier is unplugged; otherwise, there will be a high chance of you getting electrified.
Remove the tank: Most humidifier has two main parts: device and tank. The water container is attached to the humidifier. For the convenience of the work, remove the water tank and empty the tank; if there remains water.
Remove the filter: After opening the device, you will see sponge-type material available; it's the filter. Now, take off the filter from the humidifier and place it in the sink or bucket; otherwise, the mold can get stuck with others.
How to clean the humidifier filter with vinegar?
Vinegar is an excellent element that you can use for cleaning the humidifier. It's completely safe and beneficial for the humidifier filter because it causes no harm to both filter and skin. Follow the steps below.
Step 1: Take a bucket or plug the sink and pour it with enough water so that you can submerge the filter. Lukewarm water is more effective than cold water, so use warm water.
Step 2: Now, take half amount of white vinegar from the water and stir it well.
Step 3: Submerge the filter in the solution and soak it properly.
Step 4: Put the filter into the solution for 40 to 45 minutes.
Step 5: Now scrub the filter with a toothbrush. Make sure to rub all areas of the filter.
Step 6: Rinse it with clean water. Use the force of the water; it will help remove the mold particle stuck into the filter. For this, you can use tap water.
Step 7: Dry the filter under the sun; keep it there for a few hours, then place it in the humidifier.
Caution: Never squeeze the filter; otherwise, it can be deformed.
If you don't want to use vinegar or don't have it. No problem, there are some vinegar alternatives such as hydrogen peroxide, bleach, etc. The cool-mist humidifier can be cleaned with these alternatives.
Clean humidifier filter with bleach
While applying vinegar solution, you should've to wait for 40-45 minutes. If you're short on time or patience, then bleach is a better alternative. This solution only needs 10 minutes and is more effective.
Bleach is more powerful than vinegar in removing the mold from the filter. It also disinfects the filter, which vinegar can't able to do.
Don't touch the bleach or bleach solution with your bare hand. Bleach is harmful to the skin; therefore, it's essential to wear hand gloves while applying the bleach solution.
Step 1: Take a bucket that can hold 1 or 1.5 gallons of water.
Step 2: Pour the bucket and take one teaspoon bleach for each gallon.
Step 3: Mix them up properly.
Step 4: Soak the filter into the mixture.
Step 5: Wait at least 10 minutes.
Step 6: Now, take the filter from the bucket.
You can use Hydrogen Peroxide instead of bleach. Hydrogen peroxide is also effective as like bleach. Plus, it can kill various types of bacteria.
Caution: Don't mix hydrogen peroxide with bleach.
Examine the filter after following any method, vinegar, bleach, or hydrogen peroxide. If there isn't any odd odor, this means that the filter has been thoroughly cleaned.
After a long time of use, filters usually lose their functionality. Even though you clean them properly, they won't perform well. So, you'll need to buy a new one.
Here, I reviewed some humidifier filters that can be a perfect replacement for your current one.
---
Recommended of humidifier filter
#1. BestAir D88 Extended Life Humidifier Replacement Paper Wick Humidifier Filter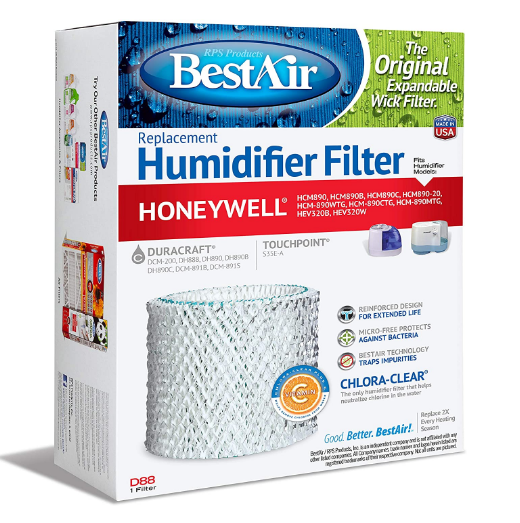 To make the filter strong, the manufacturer uses aluminum which increases the strength of the humidifier filter up to 150%. A filter can be sagging when it is wet. Its aluminum structure is very effective in preventing this problem and also prolongs the filter lifespan.
It has an excellent feature Micro-Free. Usually, most of the users of the humidifier use tap water. This tap of water contains various types of minerals. A Micro-Free humidifier filter can prevent them from spreading into the air through the humidifier.
Chlorine is used for water treatment and isn't harmful. Also, it kills bacteria, parasites, and viruses. Even though it isn't detrimental, it can irritate your eye, skin. However, the Chlora-Clear plus C technology neutralizes chlorine.
Fits Honeywell Humidifier Models HCM890, HCM890C, HCM890B, HCM890-20, HCM-890CTG, HCM-890WTG, HCM-890MTG, HEV320W, HEV320B. You can also use this filter for Duracraft.
Pros
Metal case.
Micro-Free.
Three layers of filter.
Neutralize chlorine.
---
#2. AIRCARE 1043 Replacement Space Saver Wick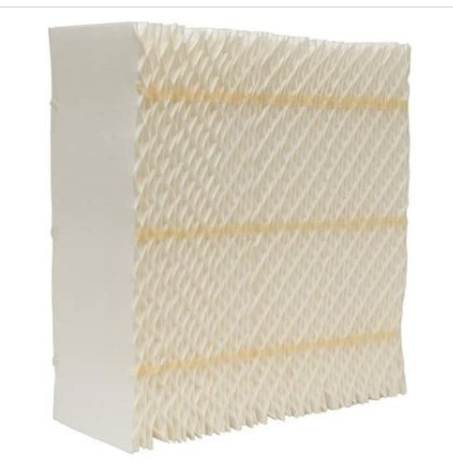 Aircare 1043 replacement humidifier filter features Trapmax Filter Technology. This technology prevents the mold and other minerals from depositing on the filter. It also purifies the air naturally.
If you don't clean the filter regularly, there is a scope to grow deposit mold. The mold can be a place for bacteria or viruses. When bacteria grow inside the filter, it will spread odor. But antimicrobial protection prevents the mold from depositing and killing the bacteria and virus.
The filter is AHAM certified, so your room is safe from tobacco smoke, pollen, and dust.
The filter is replaceable with AIRCARE & Essick Air models: EP9500, EP9800, EP9R500, EP9R800, EP9R700, EP9700, 826000, 831000, 826800, SS390DWHT, 821001, 821000.
Pros
AHAM certified.
Long-lasting.
Trapmax and Antimicrobial Technology.
Cons
After 50 to 60 days, the ability to absorb water will gradually decrease.
---
#3. Best Air Life Humidifier Replacement Paper Wick Humidifier Filter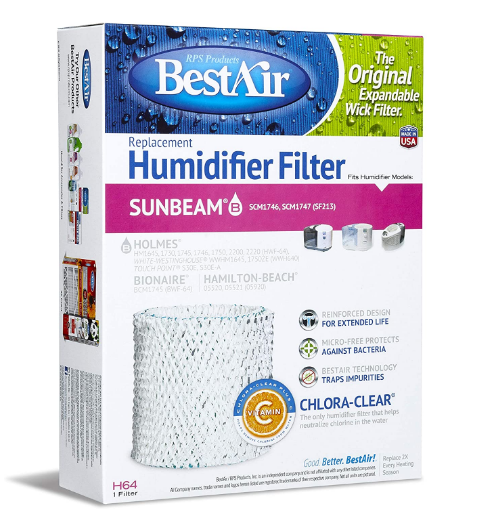 The durability of the product is good. If you take care of it, you will get the optimal service. At least, you can use it for three months without any problem. Otherwise, it became clogged quickly.
This paper wick fits with Holmes Hm1730, 1745, 1750, 2200, Hwf64. Besides, it also works with white Westinghouse Wwhm1645 & Duracraft Dh888.
If you don't use water treatment, your filter will not last long. You need to change frequently because of mold. So, try to use clean water.
It has the best bactericidal solution, so it doesn't spread bacteria. It keeps the air clean and fresh.
Pros
Durable.
Long lifespan.
Fits properly with the recommended products.
---
#4. Honeywell Wick Humidifier filter HC888 2 Pack Special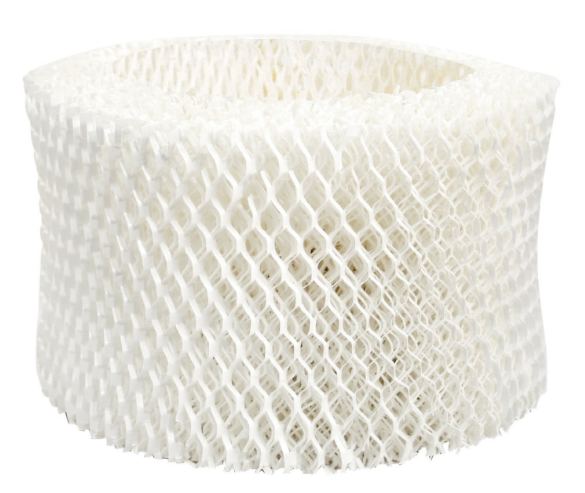 The manufacturer of this product is CuteMch. They design it for Honeywell models AC888, DCM200, DH888, DH890, DH890C, HC888, HCM890.
The absorption power is high so that it can keep pace with the machine's speed. The filter can trap the mineral deposit, so the moisture is fresh and safe for babies, plants, pets, almost for all.
The dimension of this product is 6.8 x 2.9 x 9.5 inches, and the weight is only 15.87 ounces.
Pros
Best For Baby care.
Two Pack.
Fits perfectly with recommended products.
---
Conclusion
Wick/filter is an essential part of a humidifier. However, it needs to be cleaned on a regular basis and requires replacing if it gets old.
There are different types of filters; among them, some are unique because of their outstanding features and technology—for example, Chlora-Clear Plus C, Micro-Free, Antimicrobial, Trapmax, etc.
All technology and features are included to provide clean and fresh, moist air. These features prevent mold and bacteria and keep the family safe from disease and odor.