Finding the best baby bouncer in 2023 when you are a new parent can be a strenuous task. However, ProBaby Guide has made your job easy and answered all the aspects of choosing a baby bouncer.
Don't skip the buyer's guide and also the comparison between baby bouncer and swing. This information will enhance your knowledge of the safety features of a baby bouncer so that you can have a happy baby at home.
What is a Baby Bouncer?
A bouncer is a seat that can spring up and down. The child initially has the option of relaxing or sleeping in it while mommy rocks them with both hands, but once they get too old for this type of thing (around 9 months), then there's no turning back!
Infants who cannot sit unassisted are often put into bouncers, which you can use until about 9 months. After that time, some of these baby seats will work as toddler chairs, such as the Nuna Leaf Grow and BabyBjorn Bouncer Balance Soft.
The chairs offer stimulating playtime for babies and toddlers. They come in handy when the tot realizes that a few legs and arms movements are all it takes to start up these spring movements of their bouncer, which helps teach cause-and-effect skills!
Do you know the differences between Baby Rocker and Bouncer?
Different Types of Bouncy Chairs for Babies
You'll want to make sure that the furniture you purchase for your baby, like the baby delight bouncer, is not only safe but also comfortable. While searching for the best baby bouncer 2023, it will be advantageous to know the different types.
There are many different types of bouncy chairs available on today's market which offer something special – whether it's an extra bassinet or color-changing light show!
Basic Baby Bouncer
A standard bouncy chair provides the basis for your infant. The motion and wiggle will be present, but it lacks any special features or trinkets that could make their experience more fun.
A baby's first chair is designed to be exciting and interactive. They come with features that will keep your little one engaged, like the bouncing motion of an infant in this type of seat! The best part?
You don't need much space because these chairs can fold up small when not used, so they're perfect for any nursery or home décor style too-just pack it up afterward if needed!
The only real downside to these is a lack of unique features. Otherwise, they are the perfect fit for your basic needs because you can't go wrong with basics!
Baby Bouncer with Activity Features
If you're looking for a baby gift, there are few things more valuable than the bouncy chair because it will keep them entertained.
But what happens when your little one gets bored of sitting in one place? This problem might be as simple as adding some toys or colors on top!
A great way to entertain your baby is by using an activity bouncer. Some of the activity bouncers made their places in the best baby bouncer 2023 list.
The best part about them? They're equipped with all sorts of fun features! From hanging toys and mobiles, vibration seats for added comfort or musical instruments.
So, you can play music while they bounce around in their cozy chair – there are plenty of ways these things will keep little ones busy at home or on the go.
However, the added weight and size can make them less bouncy than other options. They also cannot be folded with all those extra pieces making them a bit more challenging to store or carry around when compared side-by-side with their counterparts!
If you need the extra features, your price will also go up. When exploring options, keep this in mind to ensure that it's worth spending more money on one product over another!
How to Choose a Baby Bouncer: The Complete Buying Guide For Parents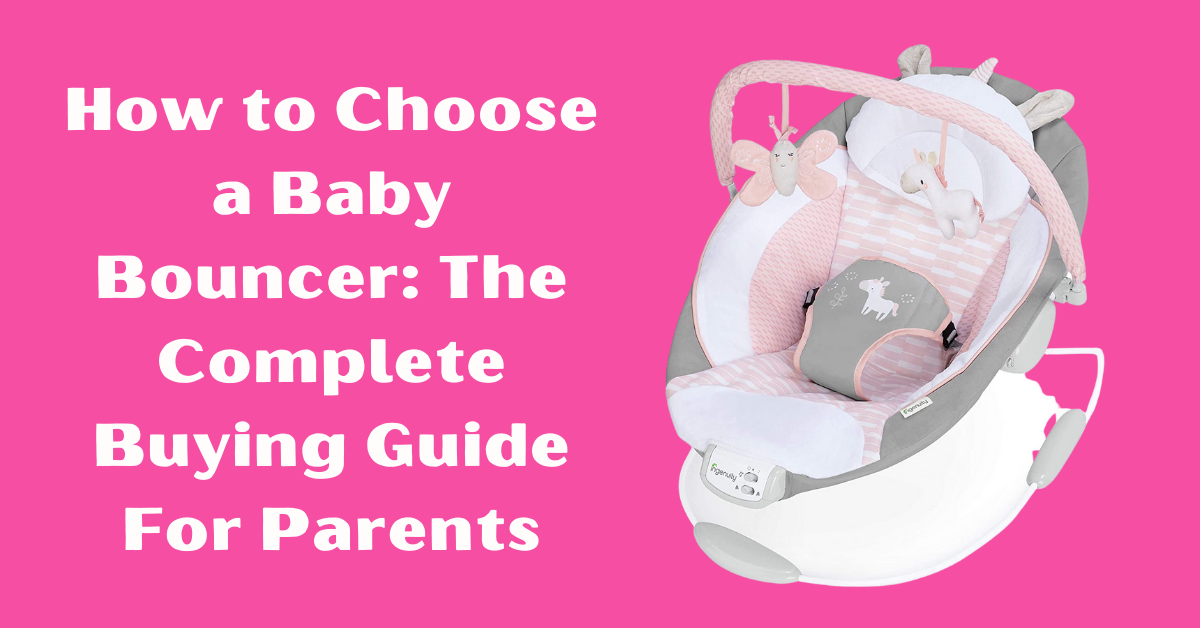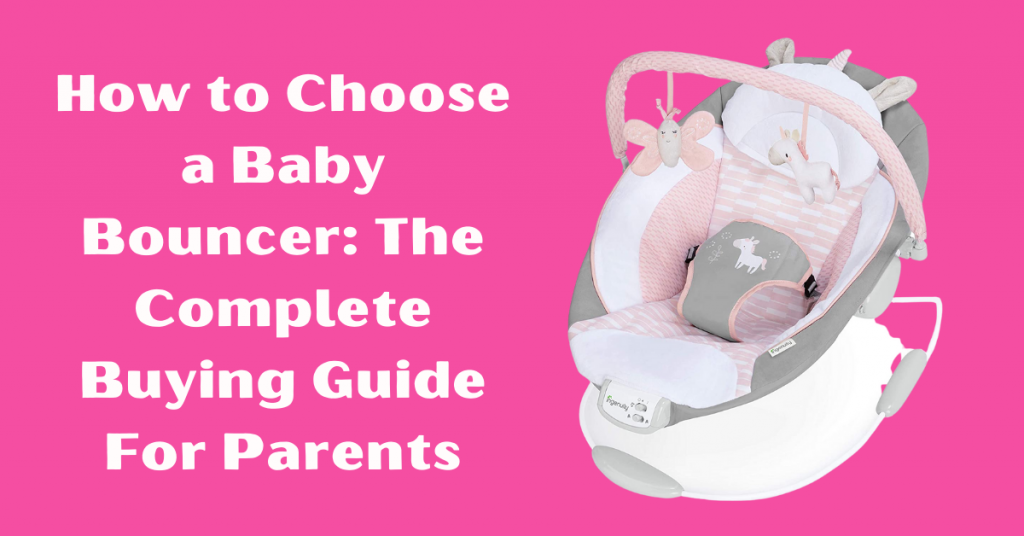 Are you wondering about how to choose a baby bouncer? We have rounded up the nine most influential factors that will help you choose the Best Baby Bouncer 2023.
Power
If you're looking for the best baby bouncer chair, it will most likely need to be powered by either plugging in or battery. The choice is up to whether this device can go where your family needs when they travel and how much time/money an option costs!
Many parents might want something with vibration modes at more affordable price points that don't require any power source other than their own two hands (and maybe some imagination).
Safety
Baby bouncers can make a great way to keep your baby entertained while you're busy. When choosing the best one, look for one with either 3 or 5 point harnesses, so their safety isn't in danger of falling out. You'll also want something on the bottom that won't slide when sitting inside it, like wooden floors!
Portability
Babies need to be near their parents at all times, even for a quick snack or shower. Leave the dishes until later– you never know when your baby will start crying and require attention in order not break out into an all-out sob session!
A portable bouncer can help with this by providing them comfort while also letting mommy go about her business without worrying about what's happening next door (who knows how rambunctious toddlers get).
Durability
What are you looking for in a baby bouncer? A sturdy, well-made frame that won't tip over when your little one is inside it.
Some chairs have an adjustable back to sit up or lie down while feeding and napping! Make sure to check how strong the seat will be holding their weight – no matter what position they're in at any given time.
Movement
The best baby bouncers are those that can move and bounce. As with many things, the more features it has, the pricier it will be, but if you're looking for something cheap, then there's no problem!
Some infant seat styles come equipped with vibration modes; some babies hate these vibrations (and they make them quite queasy)!
You'll probably want to avoid this type of motion unless your little one seems happy in its current seat setting- otherwise, go ahead and choose from various cheaper options, which all rock gently pushed by mommy's foot instead.
Price
A cheap baby bouncer doesn't mean poor quality. The cost of your new arrival is already expensive – there's no need to add on overpriced extras!
Look around for an affordable chair, and you can find one that will last through many uses at under $50. Sign up with sites like Groupon or LivingSocial, so they send deals in the mail now and then, too; discounts are great when we're feeling extra savory this time around 😉
Can I Put My Newborn In A Bouncer?
Are you worried about when a baby can go in a bouncer? Well, a baby can go in a bouncer at around 3-6 months old.
The reason why they are so popular is that you get to have some time for yourself while your little one enjoys their activity, which may be calming or entertaining as desired by mommy!
Make sure someone nearby is watching over them; babies need constant supervision when near any moving object like this since it might tip over unexpectedly and cause injury.
Are Swings And Bouncers Bad For Babies?
The American Academy of Pediatrics (AAP) advises against letting your baby sleep in any infant seating device like bouncy chairs, swings, and other carriers. 
There is a risk that an inclined surface could cause some severe health problems for young children, including bone development issues or even sudden death! Babies should always be on their backs with no armrests while they're getting used to sleeping through nighttime hours – this includes naps too.
Thus, you need to be with the baby while on a baby swing or bouncer. However, there are a few ways to make the bouncer and swing safe for your baby.
If your baby is under four months old, have them sit in the most reclined position on their swing to decrease the chance of falling forward and possibly suffocating.
Make sure your baby swing can't tip over easily, and if it folds up, then that must mean you need some serious spring action!
You may think you can use baby seats at any angle, but they should always have shoulder straps and the correct posture. Make sure you're using them correctly for the best results!
The weight limit for a baby swing is typically around 20 pounds. If you install your child's chair and weigh more than this amount, make sure to move him out of the seat as fast as possible because it can cause injury if left there too long!
Baby Swing or Bouncer: Which One is Better?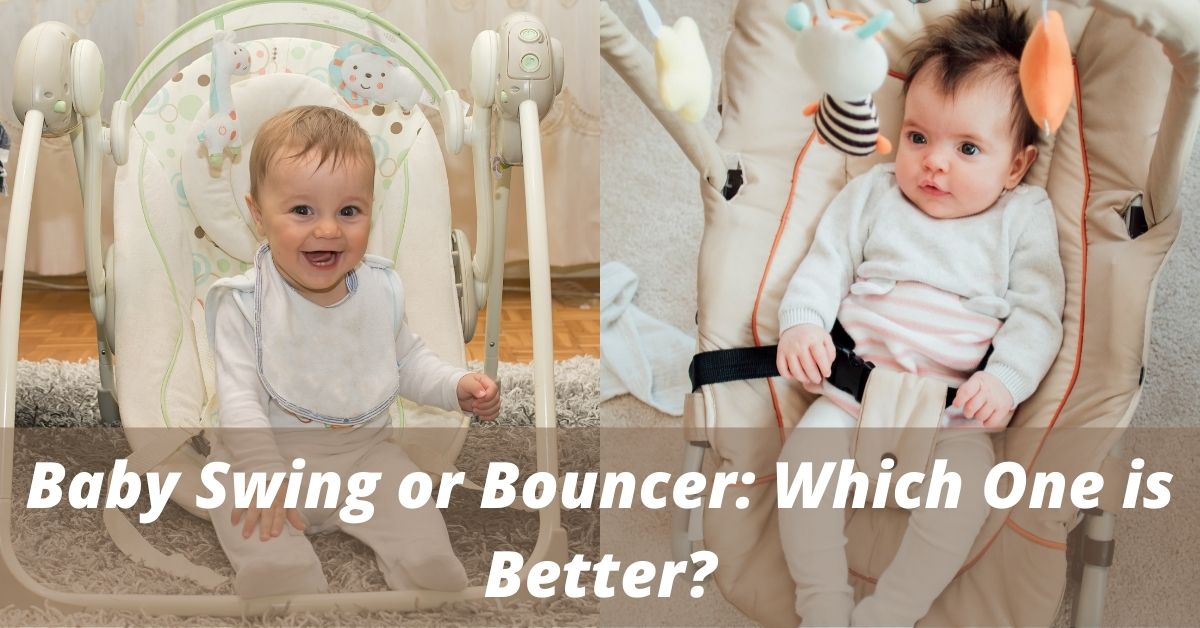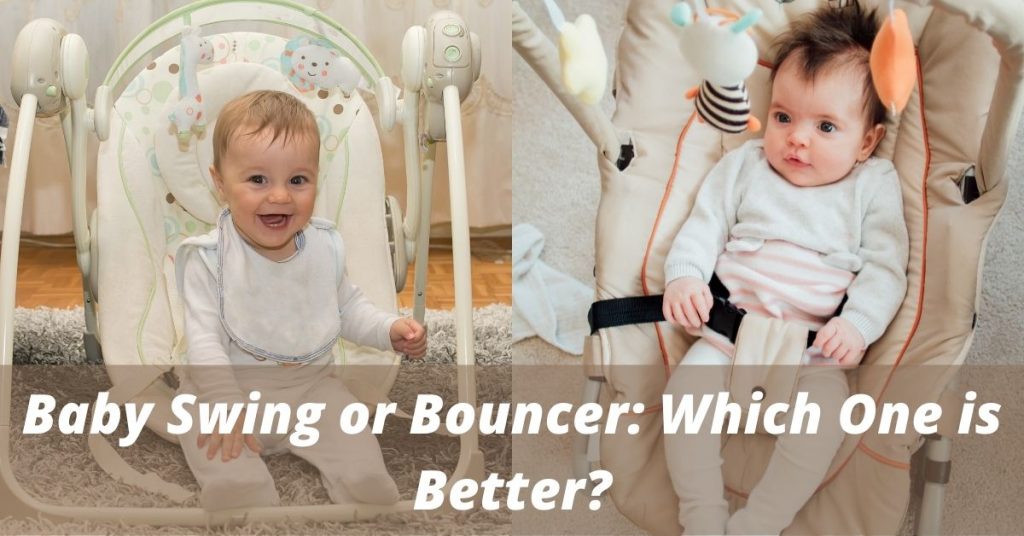 The baby swing is a padded chair that's suspended on an adults'-sized frame. It keeps swinging back and forth or side to side in the same motion as when you were pregnant, except now it can last from birth all of way until 6 months old! 
Most manufacturers recommend retiring them once your little one reaches their sitting milestones, so they don't get overstimulated by movement at such young ages.
When should you stop using the swing?
A baby's first bouncer should be sturdy and safe enough for an infant. When is a baby too big for a bouncer? Well, these seats can typically serve up to 9 months, but some of them work well as a toddler chair after that period has passed.
At their most basic level, these chairs simply require someone (usually mommy or daddy) rocking it back and forth while they watch over little one to make sure he/she is comfortable – either sleeping or relaxing!
Final Words
As a parent, you may feel overwhelmed with worry when reading about all the potential dangers your babyfaces. You might even start to question if any of these warnings are accurate or not- so take some time out for yourself first!
It can be worthwhile to read through safety guidelines again and then consult an expert in pediatric medicine should anything still seem unclear at this point.
If you are still worried about choosing a baby bouncer or picking the Best Baby Bouncer 2023, this article will be a perfect guideline. And don't forget to check the wide range of baby accessories on the ProBabyGuide website.