If you want something that can help you to take care of your baby when busy in the house, the best baby rocker should be among the top of the items on your list. A baby bouncer and rocker provide comfort and allow the baby to have fun while you take care of other things.
It's not practical to keep your baby in your hands all day. Even if this is your intention is to spend all your time around the baby, you'll need a quick break for a meal or to shower. This is where the best baby rocker comes in. Many parents love these baby rockers because they provide a safe place for the baby while they work on other things, and babies love the rockers because they're soothing and comfy.
Some baby rockers come with colorful patterns and toys, while you can find others with a more minimalist design. If you want the best experience for the baby, you can also find rockers with all the bells and whistles, from a choice of sounds to various motions. The option you choose depends on your preferences and taste.
An important thing to consider when dealing with a baby rocker is that you should always keep the baby strapped in with the harness. You should also avoid placing the chair on a raised surface like a table. If your household has pets, avoid leaving the rocker unattended.
Top 7 Best Baby Rocker For your Baby
Best for Rocking to Sleep
Fisher-Price Rock with Me Bassinet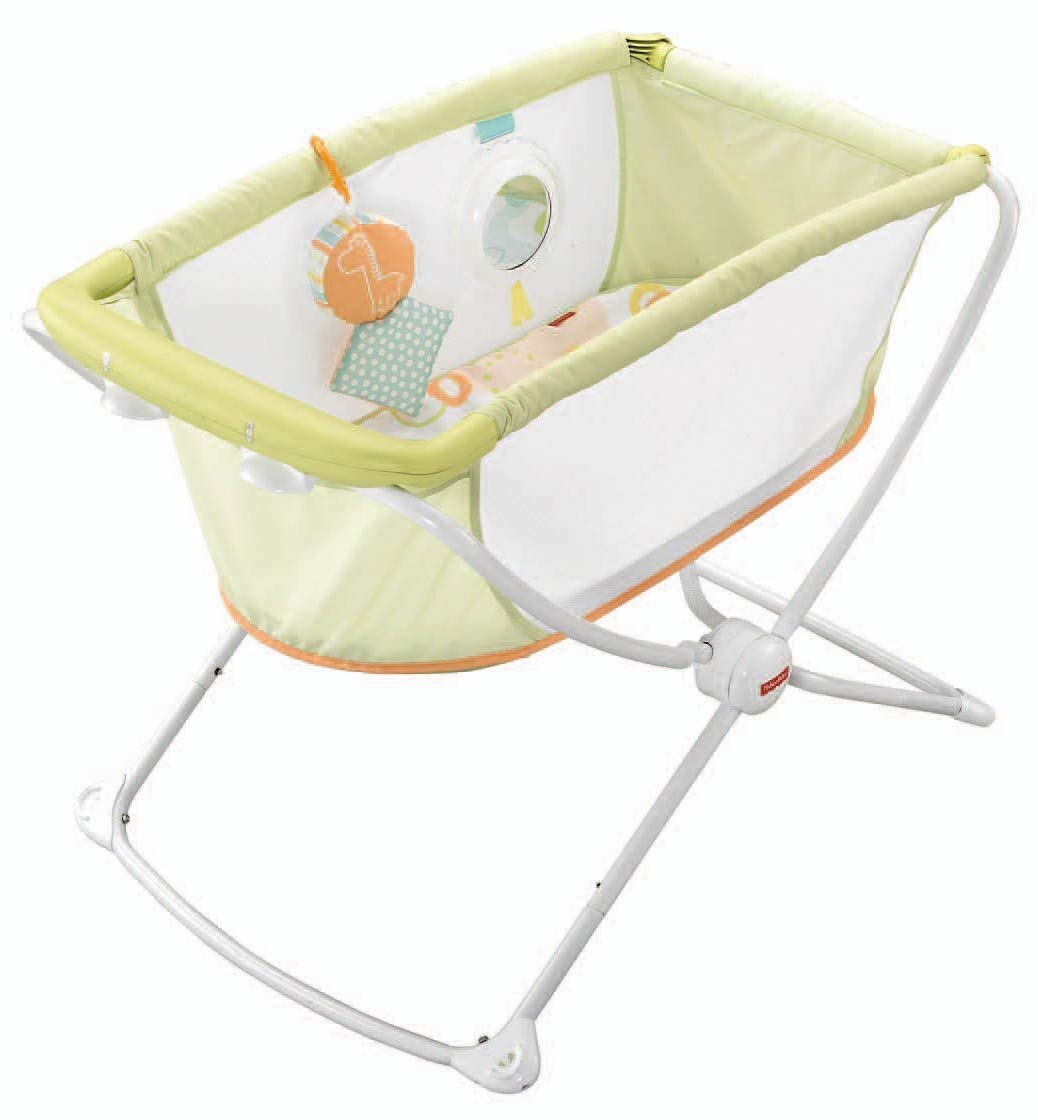 Main Features
Machine washable pad
lightweight frame
breathable
The Fisher-Price Rock With Me Bassinet gives your baby a soothing and safe place to sleep while traveling or at home. With just a gentle push, the rocker's flat sleeping surface will rock your baby back and forth and soothe them into sleep. If you want to keep it still, you can twist and lock the feet, which allows stationary use. When it's time for play, it's easy to attach the linkable toy for some bat-at fun. The design is portable and lightweight with a frame that folds easily and a machine-washable mattress sheet. This makes the rocker convenient for travel or at-home use. You should only use this if your infant cannot pull up on the sides or rollover, so check for all safety concerns before deciding to get this rocker.
As your baby drifts into soothing sleep, the Fisher-Price Rock With Me Bassinet helps the baby feel secure and safe. While playing, the baby's senses are delighted by the variety of interesting textures and the shiny mirror. You can easily help your baby learn to self-soothe and calm down. This comes with a restful environment, which allows the baby to know when it's time to relax and wind down.
With a maximum weight capacity of 25 pounds, you should only use this on children who cannot push up on knees and hands or sit unassisted. While traveling, it's a convenient package to carry as the bassinet folds to allow portability. Besides, the pad is machine washable, and you can dry it in the dryer, making cleaning and maintenance easy.
Pros
Machine-washable mattress cover
Folds flat for storage
Breathable mesh panels and a linkable toy for play
Rocks with a gentle push
Cons
Pad shrinks and curls when washed
Verdict
If you're looking for the best rocker for a newborn and occasionally travel, this is a portable option that will keep your baby safe and comfortable.
---
Best Rocker in the Bunch
Fisher-Price Cradle 'n Swing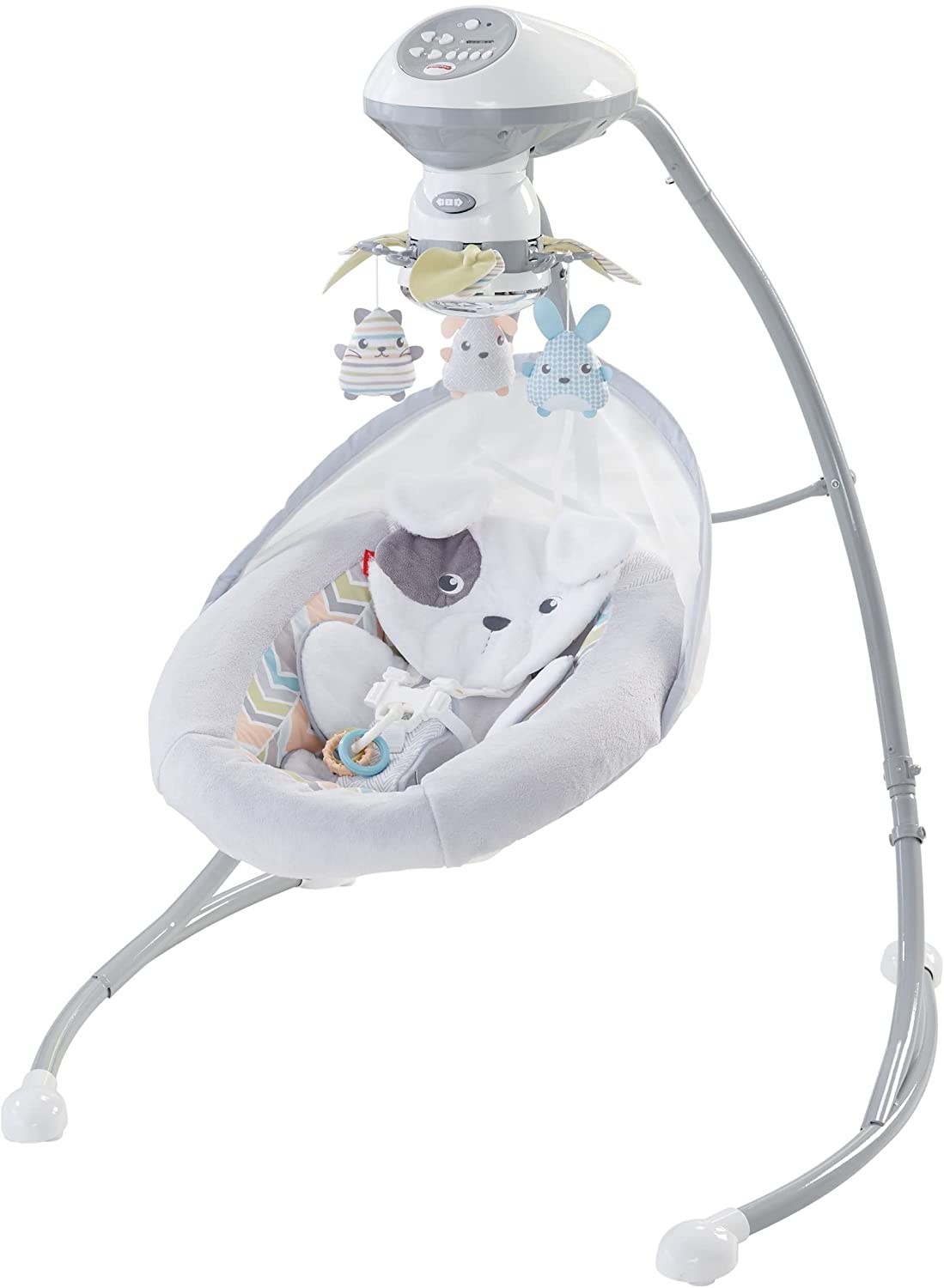 Main Features
Soothing motions and sounds
entertainment for the baby
machine-washable
This is a dual motion baby rocker that lets the baby sway head to toe or side to side. Simply press the button, and when you need to change positions, you can turn the seat. While nobody can soothe the baby better than you, you sometimes need a break, and the Fisher-Price Cradle 'n Swing comes in handy. The swinger is customizable, giving a cozy experience in different soothing positions. You can search for a calming combination that will work perfectly for your baby, and when the needs change, you can adjust the settings.
Among the key features include an overhead mobile, which turns on its own, with soft animal friends and music to entertain the baby. The swinger offers a machine-washable seat pad with body and head support for the newborn. It's also plug-powered, helping you save on batteries.
This is one of the best swingers for babies as it provides a soothing experience, comfort, and security. It's super cozy and features a plush puppy insert, customizable swing motions, and a comfy recline. As the baby relaxes, the music and mirrored dome soothe the baby's visual and auditory senses. In addition, the little toys circling overhead are useful as they help your baby with eye-tracking.
Pros
Gentle motions provide comfort for the little one
Music to stimulate your baby's senses
Machine-washable cover
Customizable swing motions
Cons
The product takes up a lot of space
Loud and grinding noises when the swing is in operation
Un-adjustable timers
Verdict
If you want the swinger that will give your baby comfort and soothe them with music and toys, this is the option you might want to consider. It's the perfect option if your baby cannot stay still when left alone, as the rocker keeps them engaged.
---
Best for Simple Rocking
Maxi-Cosi Kori 2-In-1 Rocker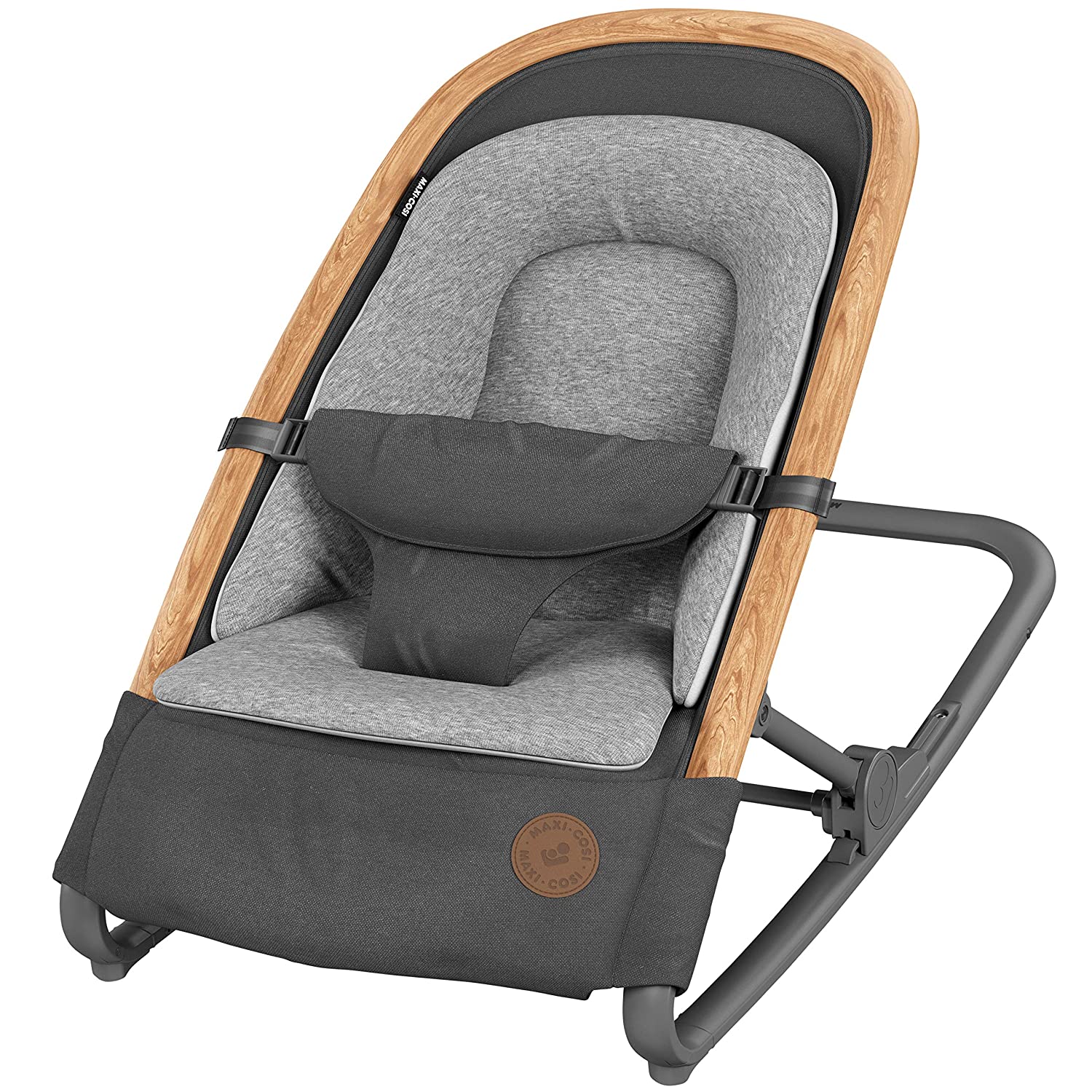 Main Features
Sleek styling details
3 seat height positions
easy-to-remove machine-washable fabrics
Maxi Cosi has established itself in the business for years, and the brand is known for producing top-notch car seats. Its home range is focused on providing products to home-proud, stylish parents. The Maxi-Cosi Kori 2-In-1 Rocker features a super chic design with muted tones, becoming a beacon of style among garishly-bright chairs and swings you can find often. This is a 2-in one product that doubles up as a chair. It comes in three colors and offers three recline positions with a 3-point harness to secure your baby.
This product is ideal for babies from birth up to about nine months or when the baby weighs 20 pounds. It's not suitable for long stints unless your baby is immobile and small. The seat includes a curved base, so with a small push, it rocks. If you want to convert the rocker to a seat, you only need to pull out two extensions that keep the chair stationary and level. However, the rocking motion is limited, as some rockers can be rocked by your baby's natural motion. The seat is too sturdy to allow independent rocking. The seat feels sturdy as it features high-quality materials, which makes the product feel like it's built to last.
To strap your baby on the Maxi-Cosi Kori 2-In-1 Rocker, you don't need to maneuver them into awkward positions. The process is simple as the rocker offers a 3-point harness, and it's surrounded by padding that ensures it does not feel restrictive.
Pros
Easy-to-remove machine-washable fabrics
Lightweight at 9lbs
Supportive inlay for newborns
3 adjustable height positions
High-quality materials
Cons
No accessories specifically for the chair
Verdict
While this is not the most innovative rocker on the market, the quality and design offer excellent performance. Rocker offers comfort for your baby, and this is a chic option you should consider. However, if your priority is entertaining the baby, this might not be the ideal choice.
---
Best Bang for the Buck
Graco Glider Lite LX
Main Features
Gentle gliding motion
spacious and comfortable seat
secure 5-point harness
The Graco Glider Lite LX is designed for toddlers and babies, from birth to 18 months. Besides soothing and comforting the baby, the gliding motion offers benefits as rocking exercise, which has been shown to help. Unlike a conventional swing that could be erratic, the Graco Glider Lite LX provides a gentle motion, like a nursery glider. This motion soothes your baby and makes them feel calm and relaxed as if they were in your arms.
To ensure comfort, the seat features a soft fabric, and it's spacious to ensure the baby does not feel restricted or uncomfortable. It also includes head support you can remove whenever you need it. You have an option to use batteries, or you can plug them in into a power supply. The battery option is perfect when moving about. This is a portable product weighing only 12.1 lbs. When you set it up, it takes little space.
For the security of your baby, the rocker comes with a 5-point harness, which ensures your baby cannot roll over or fall off. Other extra benefits you will get include 10 melodies and five nature sounds, which help your baby get perfect soothing conditions to fall asleep.
Pros
Nature sounds and soothing melodies
5-point harness for safety
6 gliding speed options
Lightweight and compact design
Removable head support
Spacious and comfortable
Cons
Limited variety of toys
Lack of adjustment for upright sitting
Verdict
Graco Glider Lite LX is a truly valuable product effective in lulling the baby to sleep. It comes with a combination of spacious seating and comfort, gentle gliding, and soothing music, making it the perfect rocker if you want to put your baby to sleep quickly.
---
Best Simple Baby Rockers
Munchkin Baby Swing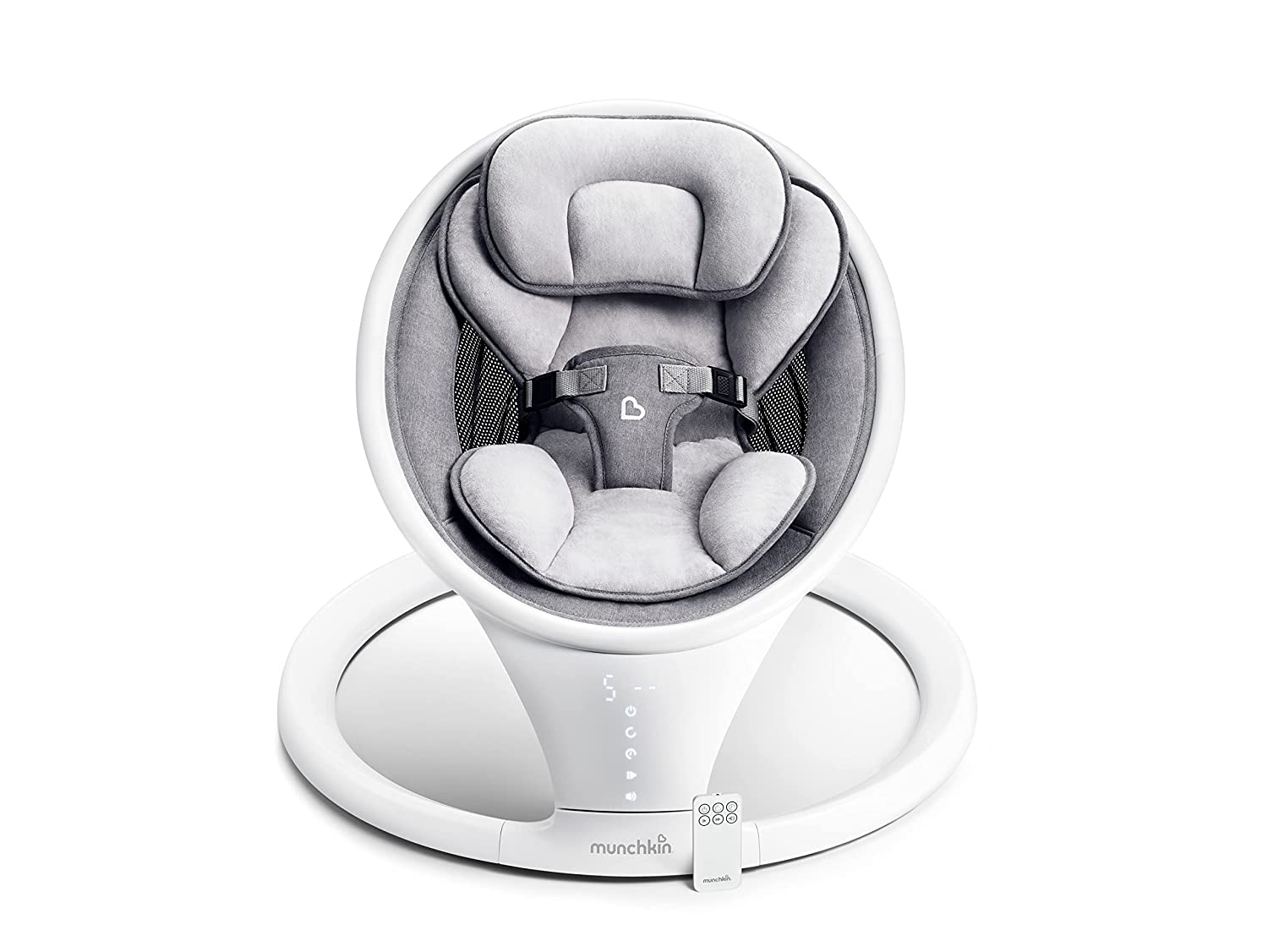 Main Features
 Lightweight and portable
remote-controlled swing motions
washable and reversible seat pad
The Munchkin Baby Swing baby swing is AC-powered with built-in Bluetooth connectivity. It's designed to soothe the infant with the swaying motion. You can use the baby rocker on babies weighing 5 to 20 pounds, or till they can sit up or climb out on their own. To manage the product, the swing offers remote control, which helps you control the swing motion, sounds, and music. Also, there's a padding that keeps the infant secure, and this is machine washable.
Munchkin Baby Swing comes with a built-in speaker that offers five sound levels, and eight pre-recorded songs and sounds. Through the digital touch or the remote controls, you're able to select different sounds, including white noise, the ocean, a heartbeat, rain, a car ride, a flowing stream, and music from Mozart, Beethoven, and Bach. The swing offers a timer, allowing you to select the length of the swaying motion.
This is one of the easiest rockers to use as it's easy to set up and operate. The device is lightweight at only 9 pounds, making it easy to move it around the house. However, there's no app to help you control the baby rocker, but the Bluetooth connection makes it easy to control the device. Through the Bluetooth connection, it can pick music and sounds from Android and iOS smartphones. For convenience, the rocker comes with a reversible and washable seat pad and head support. Its motion is set to emulate the parent's side-to-side rocking motion, and there are five ranges of motion.
Pros
Intuitive touchscreen display
Lightweight and portable
Bluetooth enabled to play music and sounds from your smartphone
Washable and reversible head support and seat pad
Cons
Swings slower than conventional rockers
Verdict
If you're looking for a simple baby rocker, this is one of the best products on the market. It offers a comfortable seat and allows you to control motion via remote control. Also, it soothes the baby with music, which you can stream via Bluetooth from your mobile device.
---
Best for Transition to Toddlerhood
Fisher-Price Infant-to-Toddler Rocker
Main Features
calming vibrations and adjustable seat back
removable toy bar
machine-washable seat pad
The Fisher-Price Infant-to-Toddler Rocker offers a much longer lifespan than the standard baby bouncer or rocker. Also, it's easy to transport and store. While the design is child appealing, it's something some parents will find suitable for their homes. As the name suggests, this comes with an extended lifespan, so you can use it on older toddlers and sleepy infants. It's suitable until the child weighs 40lbs. The Fisher-Price Infant-to-Toddler Rocker collection offers different colors, including the sky blue collection with a colorful jungle design, which appeals to most toddlers.
This offers a smooth rocking motion, and the battery-powered vibration function adds to the appeal of the rocker. Also, Fisher-Price Infant-to-Toddler Rocker is easy to assemble from the packed parts. Once you assemble it, the rocker feels sturdy and can be moved into different positions with ease. Its manual rocking motion is great, and if you or the baby prefers it didn't rock, the rocker quickly converts into a seat through pull-down supports on all the corners. Using the vibrate function, you can put your baby to sleep much faster. Besides, the rocker offers a toy bar, which includes a rattling hippo and monkey, perfect for stimulating the baby's senses with some 'bat-play'. Whenever you need to store it, the product is foldable. There are two clips that release the seatback, allowing it to be tucked underneath.
Pros
Baby shaking chair
Soothing resonance aid calm
Baby stationary seat with comfy recline
Foldout kickstand to maintain the baby when parked in a stationary placement
Cons
Instructions can be difficult to understand
---
Unique High-Tech Rocker
4moms mamaRoo 4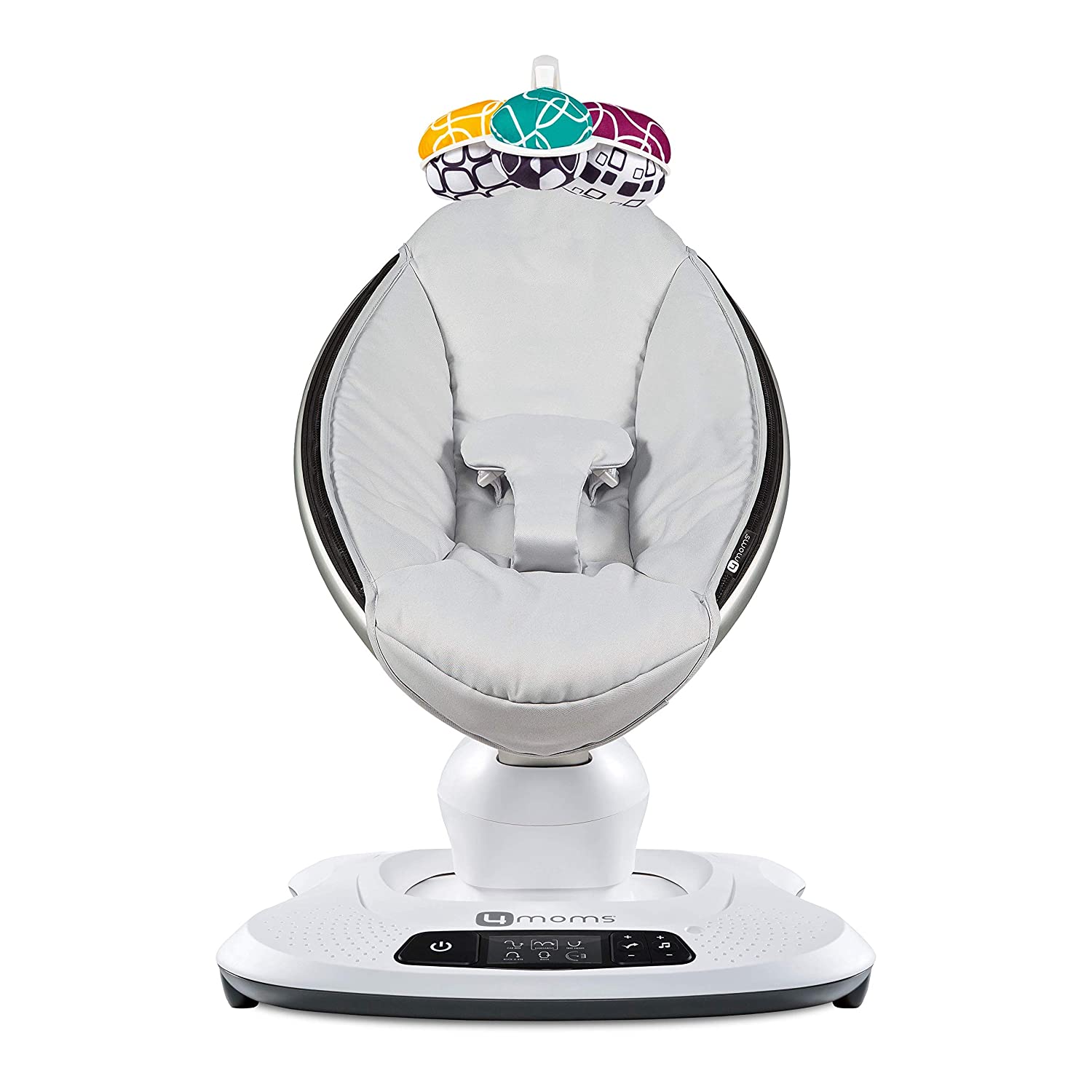 Main Features
5 unique speeds and motions
machine washable seat fabric
ac adaptor no batteries needed
The seat on the 4moms mamaRoo 4 is ideal if you want to accommodate a baby weighing up to 25 pounds, or when the baby can sit unassisted or can climb out. You can pick from four fabrics for the seat, two that offer a super-soft surface. It's easy to remove the seat, and it's machine washable. You can purchase the inserts for your newborn separately, but many newborns like the default product.
4moms mamaRoo 4 offers five different settings, which mimic the soothing motions that a parent gives when a baby is in their arms. The sounds and motions are controllable via hard buttons at the base of the product, or you can use a mobile app, which is linked to the rocker via Bluetooth. The large buttons make it easy to change the seat settings. You can find the 4Moms app on Android and iOS.
It's easy for your baby to love the 4moms mamaRoo 4 rocker. The colorful fabric mobile plus the toys in it are something unmissable for a toddler. The toys are like little pillows, and you can remove them to allow the baby to play with them. One of the bells includes a bell that jingles when you shake it, and another makes some cricking sounds when squeezed. The third offers a plastic mirror on it.
Pros
Bluetooth controls
Easy to clean
Natural movement soothes the baby
Cons
Mobile is flimsy
Poor speakers
Verdict
The 4moms mamaRoo 4 offers a high-tech solution through an app-enabled infant seat, which mimics the actual movements of parents when soothing a baby to make them happy. What sets the product apart is the compact size, amazing movements, and the ability to hold tiny babies.
How to Choose a Baby Rocker
When looking for a baby rocker, it's important to understand your baby will have a strong opinion about the product. So, choosing the right product will boost the odds of the baby like the item you picked. Besides satisfying the baby, you also need to keep in mind things that could affect you personally like your budget. Here are some of the things to consider to choose the right baby rocker.
Price
The first thing you want to look at is the price of the baby rocker, but this depends on your budget and quality expectations. Often, some of the best baby swings and rockers come at a premium, but you will love the different features, including safety, which your baby can benefit from. If you have a limited budget, it's recommended to be specific about the most important features you want as you might have to buy a rocker in a certain price range.
Weight
Weight is an important factor if you're keen on portability. For the parent who is always traveling, you want a lightweight baby rocker. This would be something you can fold and pack easily whenever you need to travel. Also, it should be easy to move around the home.
Quality Materials
Quality is the thing you want to look at if you're focused on durability. A baby rocker can be a long-term investment if you want to use it on different babies, so quality materials are something that will help you keep it around longer.
Cover Materials
The cover materials are what your baby comes in contact with. These should be soft and comfortable.
Conclusion
A baby rocker is a good way to keep your baby comfortable when you need to step away and have a meal or take a shower. You can find a shaker with different features, including Bluetooth connectivity to allow for the streaming of soothing music and sounds. This guide highlights some of the best baby rocker brands you can find on the market if you want a reliable product.
FAQ
Does a baby rocker cause spinal alignment issues if my baby uses it for long?
There's no strong proof a baby rocker can cause spinal alignment problems. However, keeping your baby on the rocker for long could hamper spinal development. Use the rocker for short periods of time and always keep an eye on the baby.
Can my child sleep on the baby rocker if they sleep on it better than the bed?
Most baby rockers are designed to offer a soothing ambiance. The vibrations and bouncing moments and the soft music can give the baby a happy sleep. However, you should never use the rocker as a substitute for a bed as it's not designed for prolonged usage.
Can I use a baby rocker on a two month old baby?
Rockers are ideal for babies from birth, but if the child is a preemie, you should consult with a pediatrician to know if they can use the baby rocker.
Is it a good idea to feed my four months old baby on a baby rocker?
Rocker seats are not suited for feeding. The baby can choke if their posture is not right, especially if the rocker is in swinging motion. Always hold the baby when feeding them to avoid complications.